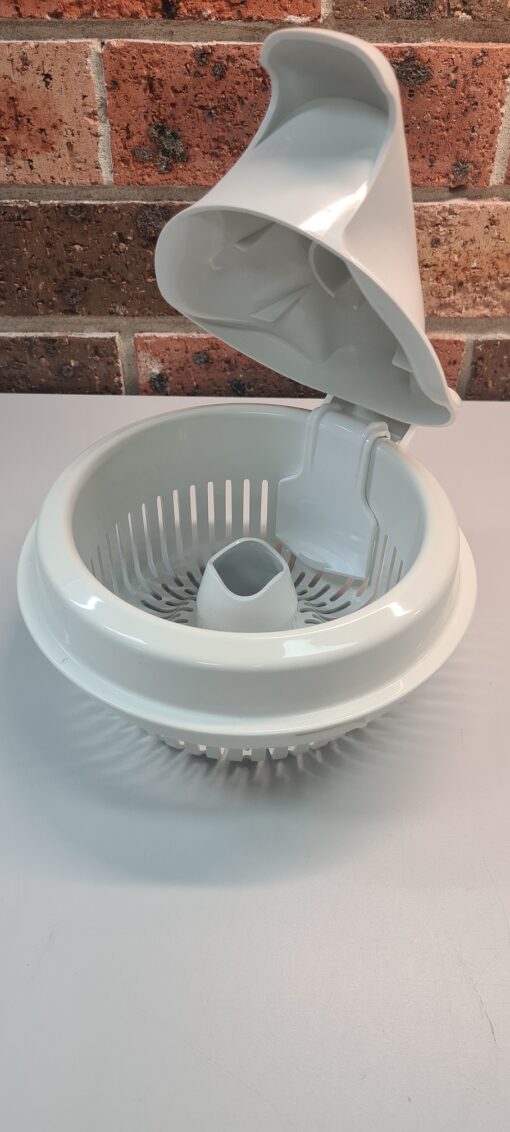 Magimix Citrus Press for 5200XL – On Clearance!
Price includes GST (if applicable).
| | |
| --- | --- |
| Brand | MAGIMIX |
| Product Type | Food Processors Domestic |
Description
Cuisine Système 5200 XL – The ultimate workhorse. If you entertain a lot, batch bake or cook for your deep freeze,
this model gives you all the flexibility you need.
FEATURES
EXTRA LARGE FEED TUBE
enables the slicing and shredding of whole or large pieces of fruit & vegetables.
MAIN BOWL
for mincing, mixing, chopping, kneading, grating, slicing, emulsifying…
MINI BOWL / MINI BLADE
ideal for chopping herbs, onions, small quantities, making salad dressings.
MIDI BOWL
ideal for slicing and grating all types of preparation (fruits, vegetables, cheese).
KNIFE BLADE
for chopping, crushing, blending, mixing… Stainless steel Sabatier knife blade.
BLENDERMIX
a finer and improved blend for velouté soups, smoothies and pancake batters.
DOUGH BLADE
for heavy pasta dough, bread dough, brioche and pastry.
EGG WHISK
whisking egg whites and creams for desserts (mousse, meringue…).
SLICING DISC
2 mm and 4 mm: fine or thick slicing. Stainless steel Sabatier disc.
GRATING DISC
2 mm and 4 mm: fine or thick grating. Stainless steel Sabatier disc.
CITRUS PRESS
2 cones provided for smaller fruits and larger fruits: lemons, limes, grapefruit…
SPATULA
for easy cleaning.
RECIPE BOOK
100 exciting ideas from starters to desserts.
FREE RECIPES APP
find all of our recipes on the Magimix app. Available for mobile and tablet.
OPTIONAL ACCESSORIES
SPIRAL EXPERT KIT
NEW – transforms your fruit and vegetables into Spaghetti, Tagliatelle, Fusilli.
JUICE EXTRACTOR KIT
for juices, thick jus or purée from fruit & vegetables. New basket with removable rim.
CREATIVE KIT
ideal for being creative: julienne, extra wide julienne & fluted discs. Storage box.
MASH AND PUREE KIT
for delicious homemade mashed potato, purées and baby food.
6 mm SLICING DISC
thick slicing
6 mm GRATING DISC
thick grating
JULIENNE DISC
for producing fine chips andsmall batons
PARMESAN/ RASPING DISC
for grating hard cheeses such or hard chocolate
Downloads
Specifications
| | |
| --- | --- |
| MAIN BOWL | 3.6 litres |
| MIDI BOWL | 2.6 litres |
| MINI BOWL | 1.2 litre |
| RECIPE BOOK | 100 ideas |
| CLEANING SPATULA | 1 |
| | |
| Processing capacities | |
| BRIOCHE DOUGH | 1 kg |
| BREAD DOUGH | 1.2 kg |
| SHORTCRUST PASTRY | 1.5 kg |
| SOUP/ JUICE | |
| | 1.4 kg |
| CARROTS | 1.4 kg |
| EGG WHITES | 8 |
| | |
| MATERIAL | 0% BPA |
| POWER | 1100 W |
| GUARANTEE | 3 years |
| Motor guarantee | 30 years |
| DIMENSIONS | H445 x L210 x D260 mm |
| WEIGHT | 11 kg |
Related products