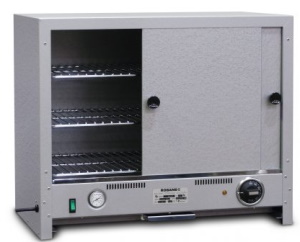 Roband Pie Warmer No Light PM100S
This great new range all feature a modern, brushed stainless steel body, adjustable feet and metal control knobs. The cleverly designed display racks can also be installed either horizontally or at an angle enabling the contents to be displayed in the most appealing way.
Stainless steel doors.
Price includes GST (if applicable).
| | |
| --- | --- |
| Brand | Roband |
| Product Type | Pie Ovens |
Description
Models with stainless steel doors on front and stainless steel back, PM50S and PM100S, are also available.
For enhanced functionality, the PM25L, PM50L, PM50LG, PM100L and PM100LG models also feature a baffle tray in the base along with a centrally positioned steam pan that produces a delicate steam to keep food moist. An internal light in the ceiling of the machines produces a warm coloured light, further enhancing the appeal and presentation of the food.
Features
Stylish brushed stainless design
Variety of sizes available – 25, 50 and 100 pie capacity
Adjustable feet
Easily removable crumb tray
Display racks in each unit can be positioned horizontally or at an angle enabling the best display of contents
Stop rail on each shelf so food does not touch the glass
Sliding glass door variations (50 & 100 pie capacity models). Hinged glass door (25 pie capacity models)
Stainless steel doors and back (PM50S and PM100S)
Range with lights
Include all the above and with the addition of:
Baffle tray with steam (1/9 gastronorm) pan in the base of the unit to provide moisture to contents
Internal lighting to illuminate contents
Specifications
Model Number

Description

Power


Watts

Current


Amps

Dimensions


(w x d x h) (mm)

Pie Capacity

PM25

Pie warmer, hinged glass door

1,100 Watts

4.8 Amps

401 x 398 x 585

25

PM25L

Pie warmer, hinged glass door and internal light

1,200 Watts

5.2 Amps

401 x 398 x 585

25

PM50

Pie warmer, glass doors single side

1,250 Watts

5.4 Amps

610 x 392 x 507

50

PM50G

Pie warmer, glass doors both sides

1,250 Watts

5.4 Amps

610 x 392 x 507

50

PM50L

Pie warmer, glass doors single side and internal light

1,350 Watts

5.9 Amps

610 x 392 x 507

50

PM50LG

Pie warmer, glass doors both sides and internal light

1,350 Watts

5.9 Amps

610 x 392 x 507

50

PM50S

Pie warmer, stainless steel doors and back

1,250 Watts

5.4 Amps

610 x 392 x 507

50

PM100

Pie warmer, glass doors single side

1,550 Watts

6.7 Amps

772 x 392 x 587

100

PM100G

Pie warmer, glass doors both sides

1,550 Watts

6.7 Amps

772 x 392 x 587

100

PM100L

Pie warmer, glass doors single side and internal light

1,650 Watts

7.2 Amps

772 x 392 x 587

100

PM100LG

Pie warmer, glass doors both sides and internal light

1,650 Watts

7.2 Amps

772 x 392 x 587

100

PM100S

Pie warmer, stainless steel doors and back

1,550 Watts

6.7 Amps

772 x 392 x 587

100